Shipping
Our primary business is getting orders safely to your door!
We ship daily to earn, and keep, your respect. Most of our products are right here in our warehouse.
Currently offering FREE SHIPPING for orders over $99 (Exclusions do apply to a few over sized items).
Expedited orders, be sure you have provided phone number(s). We may need to reach out to assure same day shipping. Some items must be shipped separately, because of their size or fragile nature. Insurance is already included for best practice, and peace of mind. Tracking emails: all customers receive them!

Admittedly, the e-commerce super highway, has its "navigational hazards". One of those is the possibility of your merchandise getting lost or damaged. This is NOT common because nobody wants this!
If unfortunate circumstances do arise during shipment however, we'll put your "vessel" back to smooth sailing as quickly, and properly, as possible. GUARANTEED!
UPS Ground Shipping Transit Days Map From Our Warehouse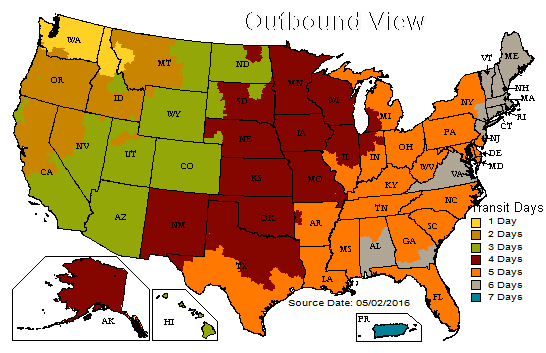 International Shipping We ship to over 70 countries however we do not accept checks/money orders drawn on Non-USA banks. If you are having trouble checking out, it may be due to the finished package(s) size, being larger than the allowable maximum, for your destination country. Please Contact Us. We encourage Intnl. customers to use a freight forwarder for large orders like VPost.com, MyUS.com or BongoUS.com This will also allow shipment of items described in product listing page as 'too large for International shipping'. We would still be able to ship these type of items via your freight forwarders!
Sales Tax Currently only shipments being delivered to WA State, will be charged sales tax.
Out of Stock It is the intention of Nautical Decor Store to have every advertised item in stock. Occasionally, however due to unforeseen circumstances, an item may not be available for purchase. In the event that this occurs, our customer service department will work with you in any way possible to ensure your satisfaction.